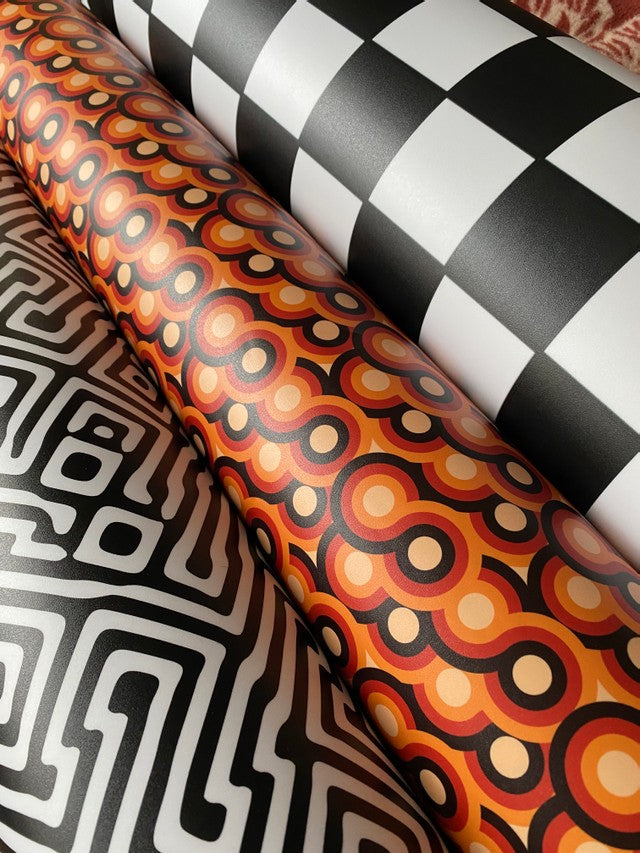 Step 1- Samples
Purchase samples of your favourite designs & test them on your particular area to make sure the vinyl is suitable & sticks well over time. You could keep them applied for a few weeks worth of baths to be certain the vinyl will work on your panel material.
There are 1000s of different tiles out there so samples are great to test on your particular tiles.
With samples you can see with each design how visible your grout lines or any imperfections will be. The busier the design the more it will mask any imperfections underneath.
Please keep in mind when applying vinyl to painted surfaces or varnished surfaces the vinyl may remove this upon removal.
Step 2 - Measuring
Once you have tested your samples, ensured the vinyl is suitable & chosen your design you will need to measure your area.
Usually 2m x 60 cm is enough for bath panels but measure to be sure!
If your area is an awkward size you can request a custom size from us.
To measure - calculate the width x length in CM of your bath panel.
We would recommend to add on a few CM's each way to make sure you have enough to work with.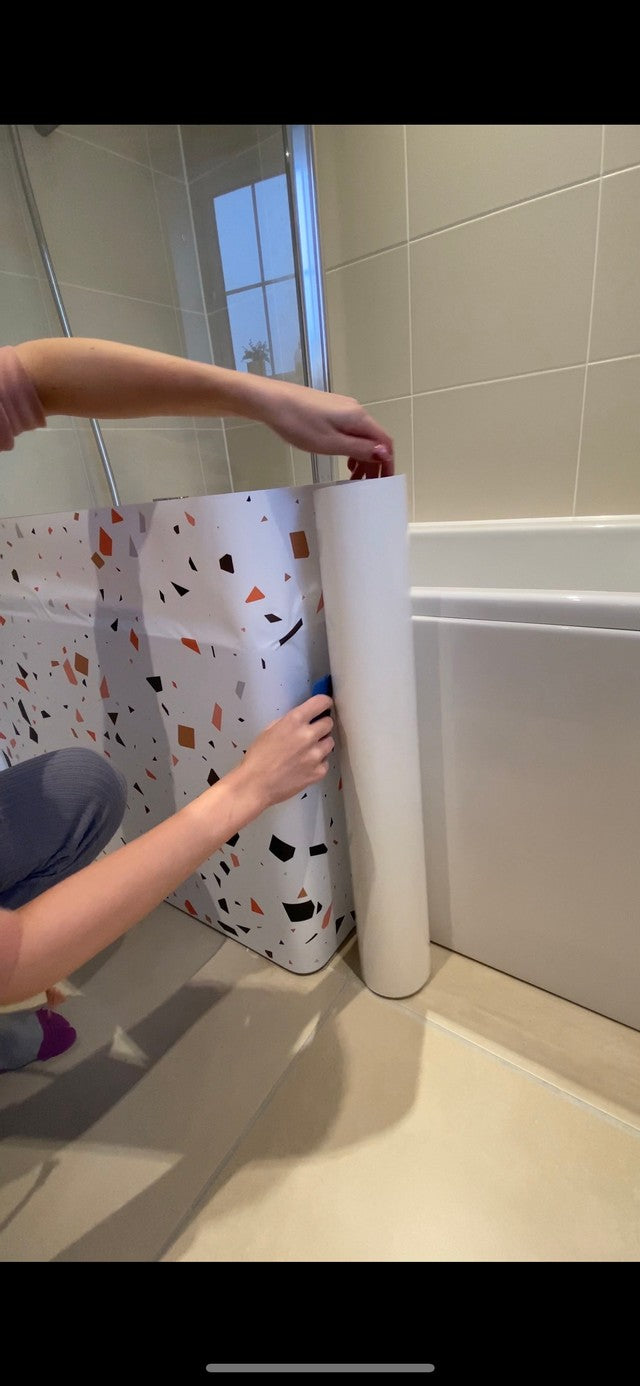 Step 3- Application
When it comes to applying your vinyl the trick is to apply small amounts at a time.
We suggest peeling no more than 2/3cm back first & then sticking the vinyl into place using your squeegee, by doing this you can make sure its on straight & no creases or bubbles will appear.
Continue slowly peeling 2/3 cm of the backing paper off & sticking down with your squeegee.
if you have an L shape bath a hair dryer may come in handy around the bend to really get the vinyl warped around the area smoothly.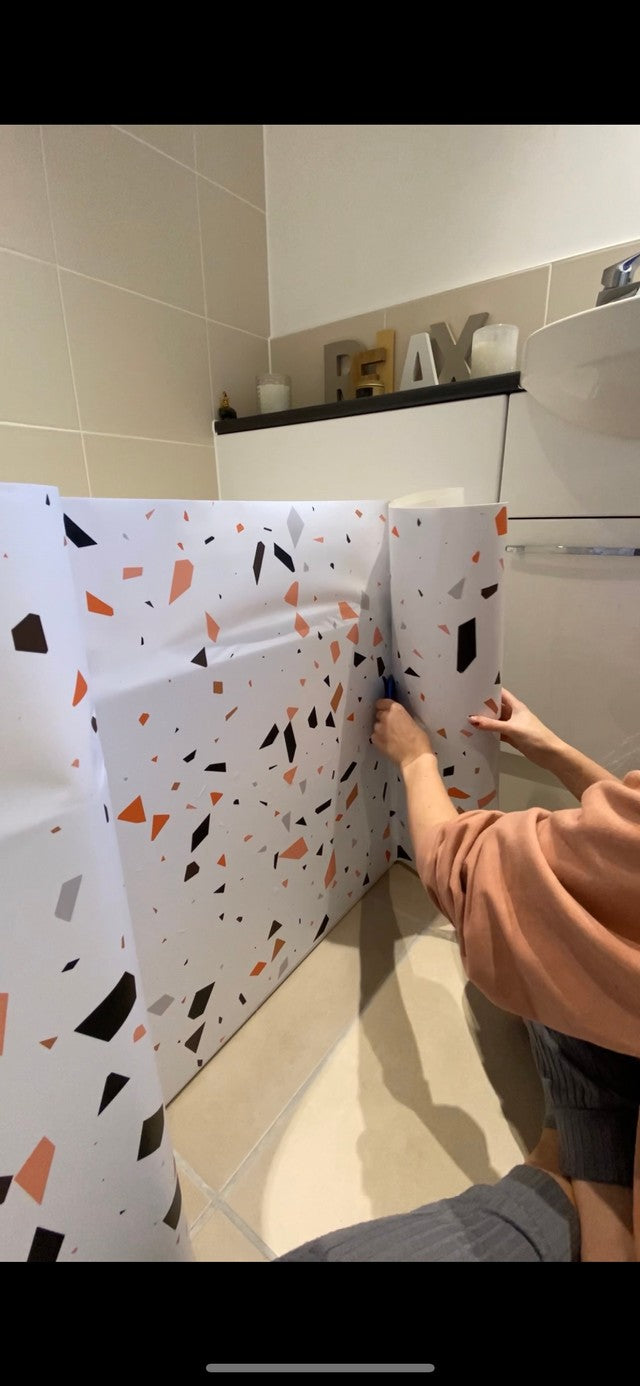 Step 4- Continue applying...
Continue repeating step 3 until your panel is finished!
IF you experience any air bubbles forming or creases you can peel back the vinyl and re apply it with your squeegee. ( a hairdryer will be your bestfriend when it comes to removing creases in the vinyl )
If you finish & still find some air bubbles simply pierce the top of the bubble with a sharp pin and use your squeegee to gently go around the air bubble pushing all air out of the hole you made.
Step 5 - Trimming
The next step for your panel is to trim any excess vinyl off.
Simply use a sharp blade to remove any overhang not needed.
Once you have done this its onto the final step, sealing.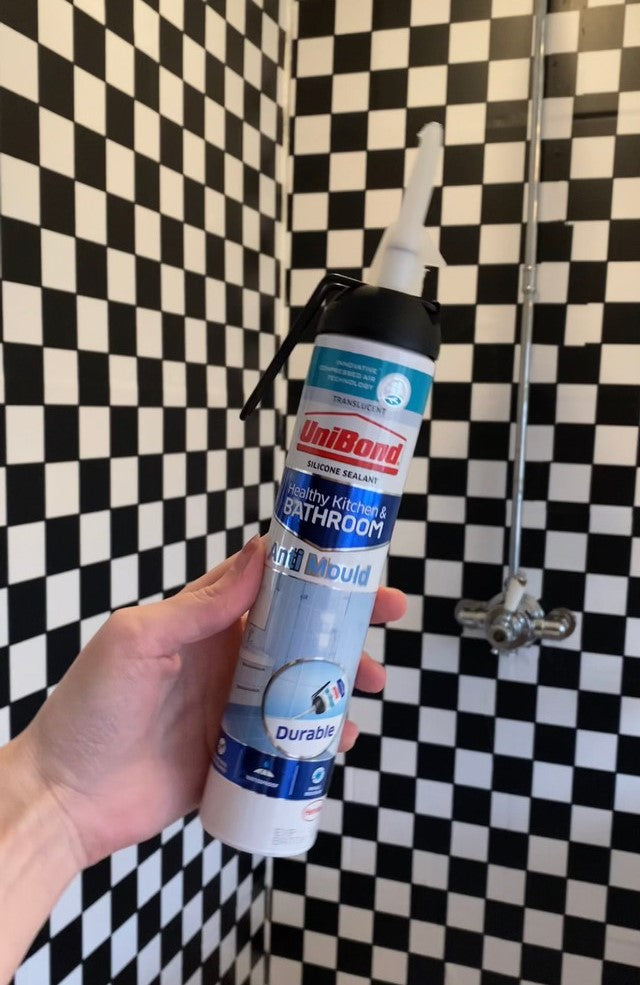 Step 6 - Sealing
When using vinyl in & around rooms with moisture it is always best to seal any edges & seams!
Most silicone is removable along with our vinyl so this still works great if you rent!
Simply use your sealant down all the joins & all along the top. This will ensure your vinyl stays put for longer & eliminates the risk of any water/steam getting underneath your vinyl.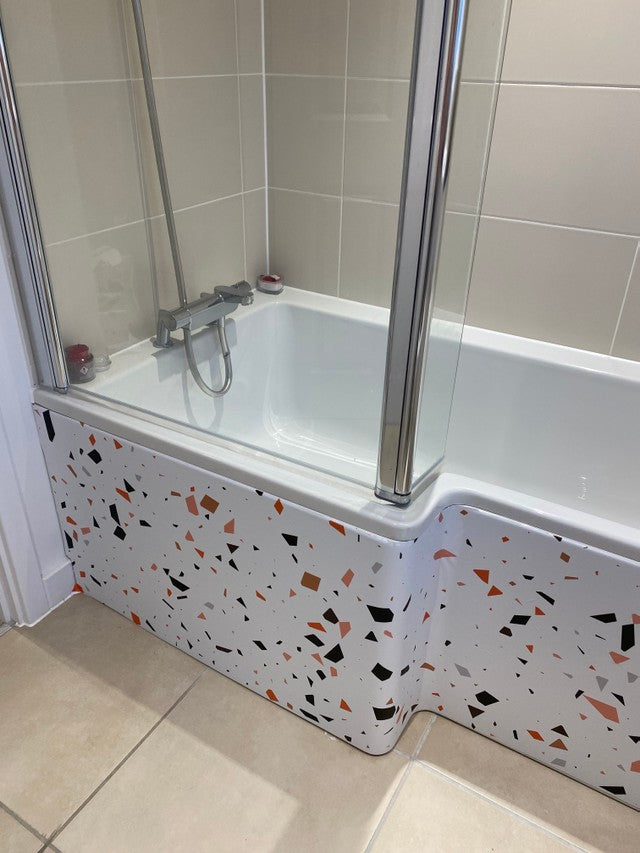 And just like that you have a new bath panel!
Wait at least 24 hours for any silicone to dry & your new bath is ready!
If you would still like more help you can contact us hello@jesrose.co.uk or watch some of our video tutorials!
Video Tutorials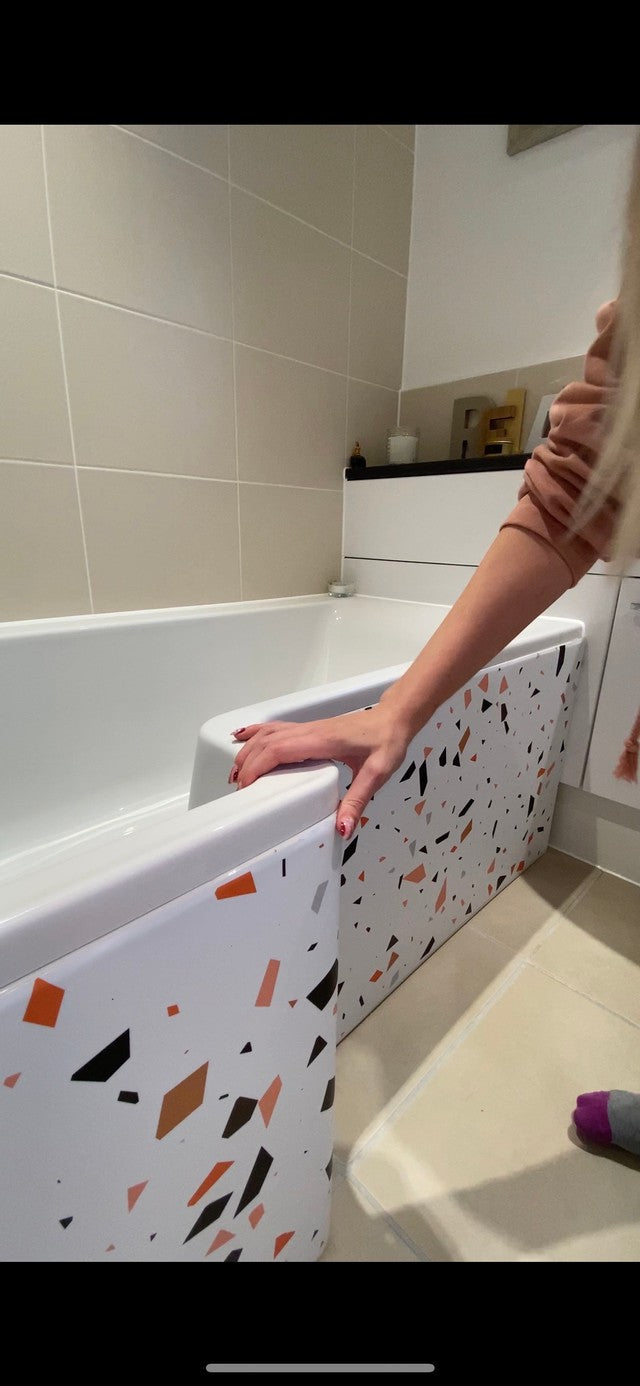 Grout lines & uneven tiles -
Our vinyl is only around 1mm thick so it unfortunately wont mask any deep grout lines, really uneven tiles or imperfections.
When choosing a busier pattern to work with you will barely be able to see the grout lines.
If your grout is really deep or you are choosing a block colour or less patterned design we would strongly advise you to purchase a sample first so you can see how it will look in person before commiting to a whole roll.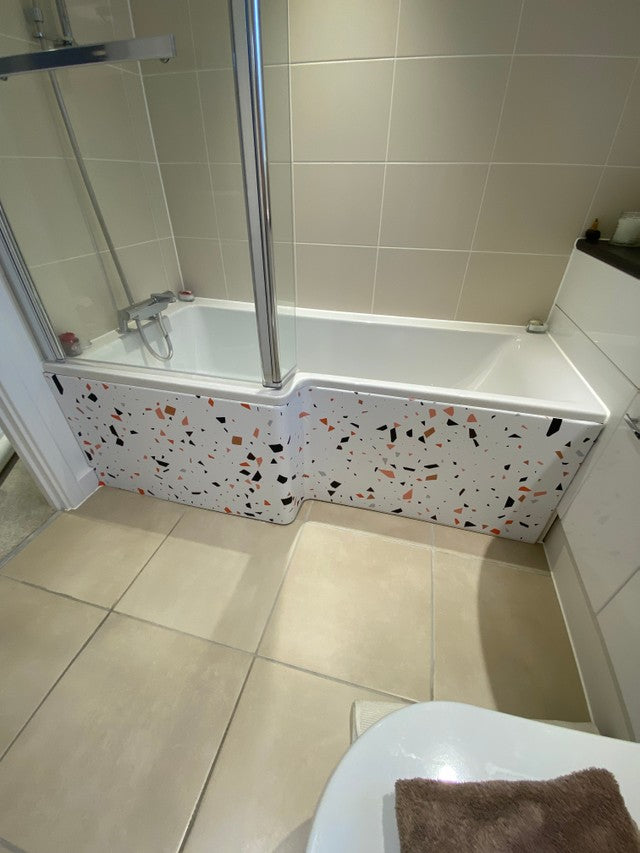 Still need help?
We have lots of video tutorials on vinyl application, you can view these by clicking the button below!
Any questions please email hello@jesrose.co.uk
Video Tutorials