LIVE UPDATE
Please note due to the volume currently being order to expect a turnaround time of 12 working days.
If you have any questions please don't hesitate to contact us. We are working as fast as we can to get these in your homes ASAP!
The Best Peel & Stick Tile You Can Find!
Our premium peel & stick tiles are the perfect solution for anyone wanting to change the look of their flooring or tiles. We have developed the perfect tile using only the highest quality of materials making them the most luxury peel & stick tile you can find.
-Peel & Stick
-Flexible
-Hardwearing
-Water Resistant
-Removable
-Easy To Apply
-Reusable
-Anti Slip
-Premium Thickness (2mm)
-Luxury Print Quality
How To Order!
Step 1 - Firstly, browse through our peel & stick tile designs and choose some samples.
(Samples are great to see colours, test in your area & get a feel for the product. Our tile samples are half a tile but keeping the design at the full scale so you know what to expect) Our Vinyl & Tiles are printed differently & colours will vary between both products.
Step 2 - Once you have chosen your design head to our helpful 'measuring guide' & work out how many tiles you will need.
(We are always around to help you with measurements just pop us an email hello@jesrose.co.uk)
Step 3 - Now simply choose how many tiles you need and place your order. If you need the extra odd tile and our standard packs are too much you can add on an extra tile or two from our 'top up tile' product.
How do i measure?
We have created a whole guide to help you when it comes to measuring your area for peel & stick tiles.
Measuring Guide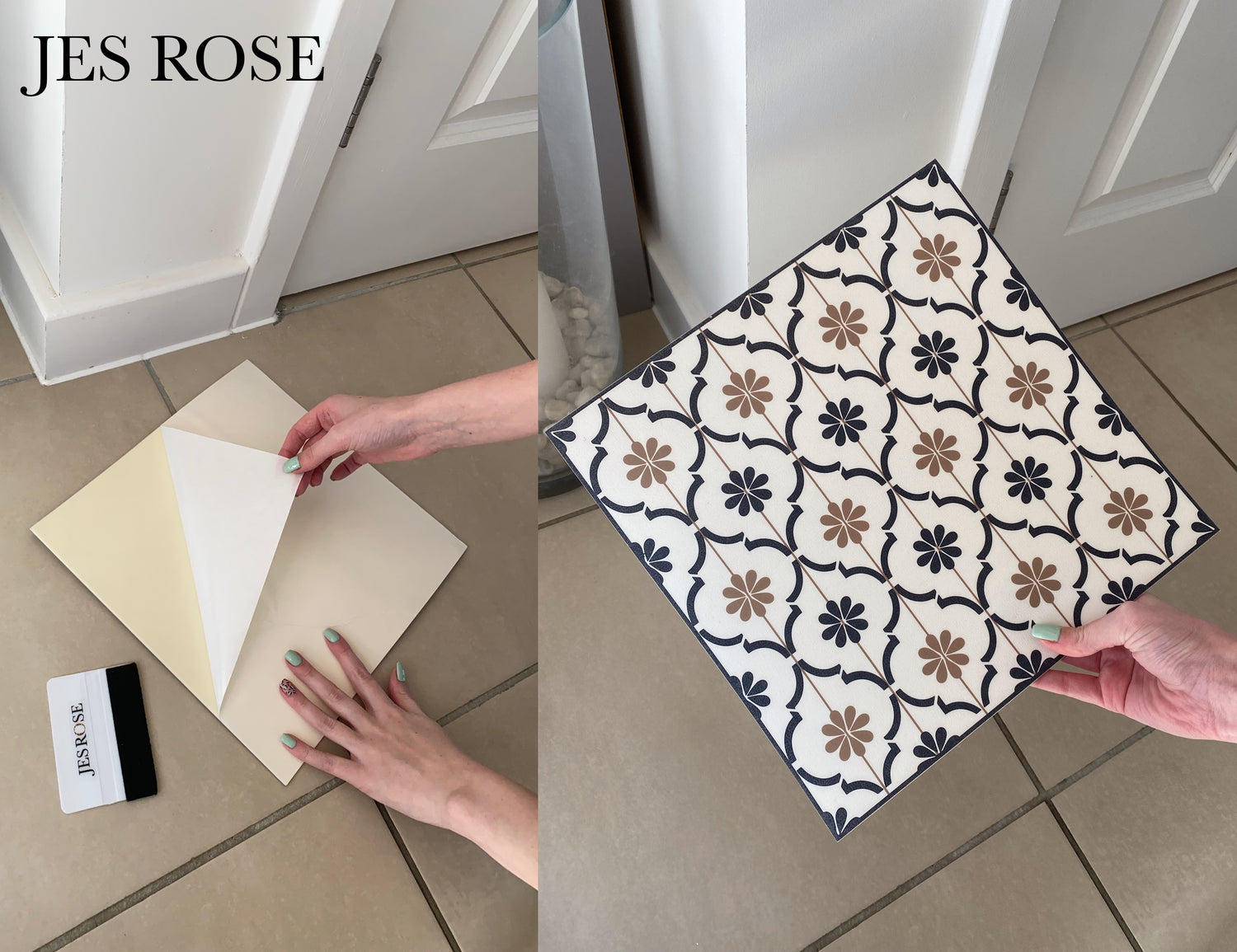 Learn More...
Our premium peel & stick tiles are a little different to our usual vinyl rolls. We have created a whole guide for you to learn anything & everything about our new premium vinyl tiles!
View more details..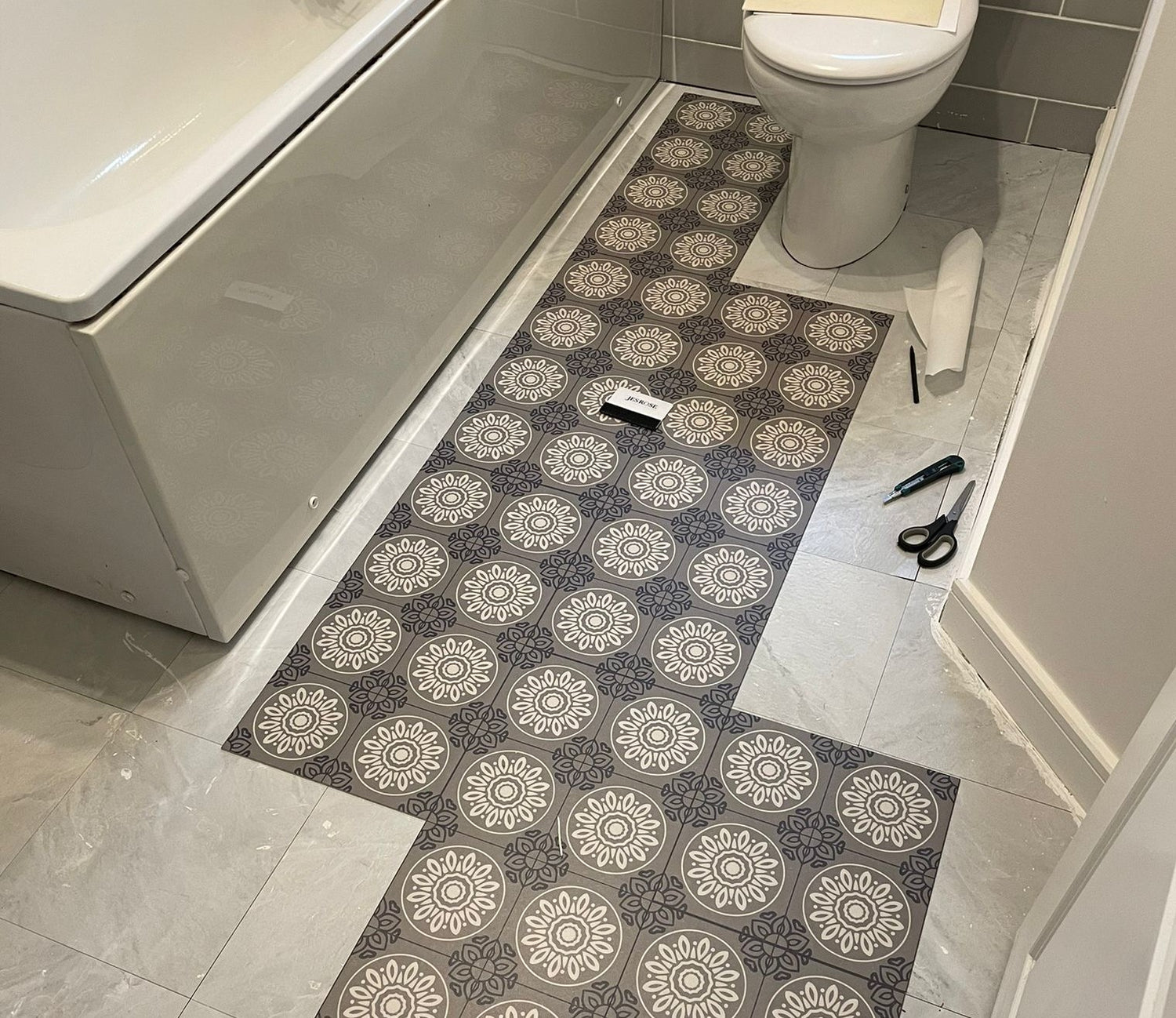 Tutorials & Tricks
We have got you covered with tutorials on cutting, positioning, sticking & so much more!
Tutorials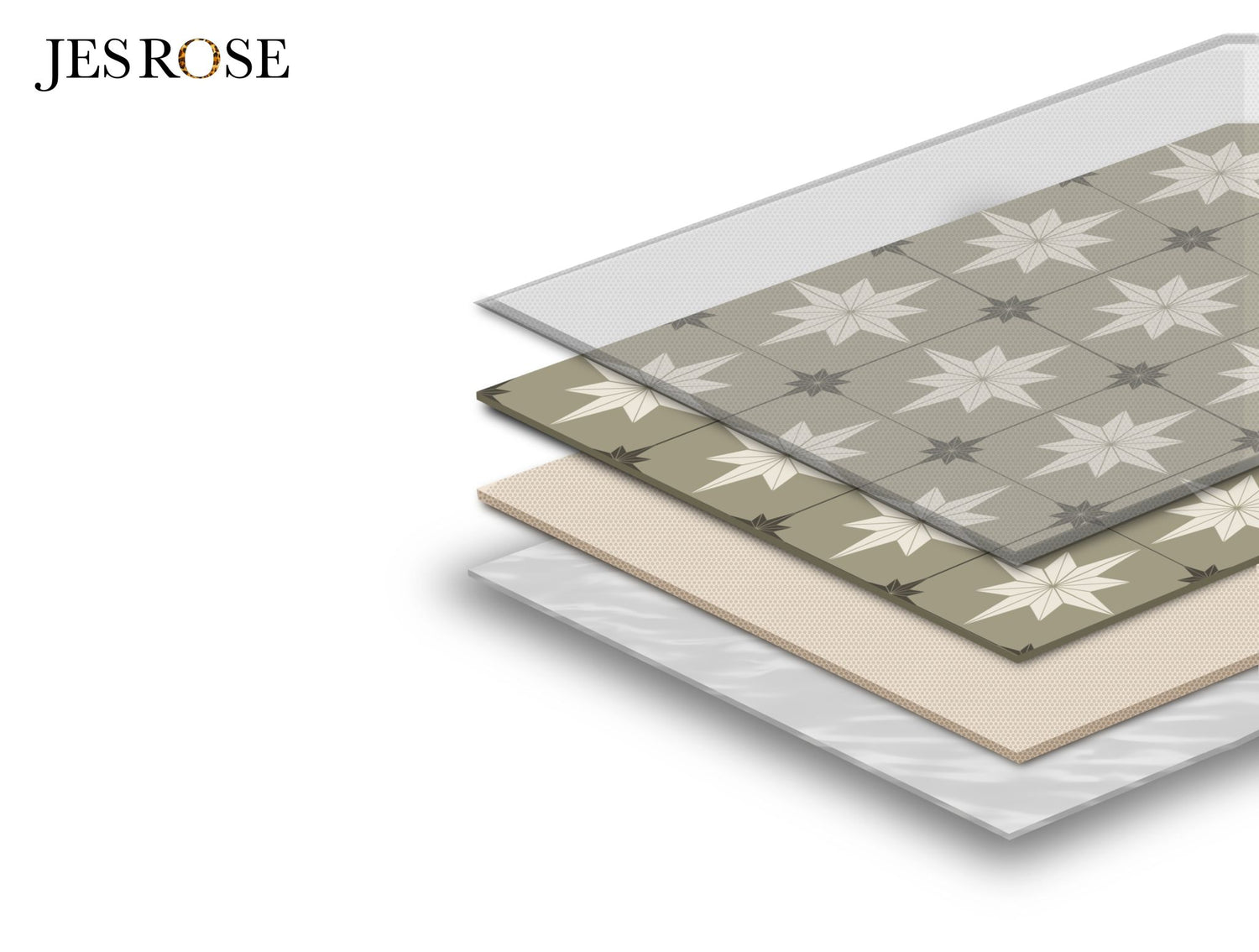 Lets break down the layers....
We have carefully designed our peel & stick tiles to be the best you can find!
We use a hard wearing, water resistant, anti scratch laminate on our premium peel & stick tiles with the anti slip rating being R10 meaning this will provide minor to moderate resistance to slipping, making it ideal for use in hallways, kitchens, and other living spaces including bathrooms. The laminate has an excellent resistance to humidity & it has a fire rating of B1 meaning it is hardly flammable

The main tiles material in the middle of the laminate & adhesive layer is a 2mm thick, cushioned, lino like material. This provides a warmer surface rather than tiles. It is flexible which helps when applying them and makes removing them much easier.

We have added a high quality peel/perm adhesive to our tiles. This means the adhesive is strong enough to keep your peel & stick tiles stuck down but also they can be removed damage free from most areas.
*please note since 2/5/23 our tiles are made using a newer top coat (laminate) which gives a more sheen finish rather than matte & makes colours more vibrant! Please keep this is mind if you have previously ordered samples or packs before this date as the new tiles / colours may look ever so slightly different.*
Over 80 Beautiful Designs!

Premium 2mm Thickness!

Easy To Use!